2014 Incidents
Fire
EMS
Jan
16
21
Feb
23
8
Mar
13
15
Apr
19
12
May
11
10
Jun
8
13
Jul
19
12
Aug
11
11
Sep
9
10
Oct
16
12
Nov
10
10
Dec
0
0
Total
155
134
Past Call Stats
Fire
EMS
2013
149
157
2012
150
133
2011
149
139
2010
122
163
2009
168
245
2008
176
344
2007
154
356
2006
154
381
2005
149
414
2004
133
326
2003
131
312
Web Counters
Website Visitors
Since
March 9, 2007

Visitors Today
Dec 18, 2014

Duplication of text, photos, or any other content on this website is prohibited without permission of sfc31.com. If you have questions, please contact us at Info@sfc31.com
EXPERIENCE THE BROTHERHOOD- BECOME ONE OF US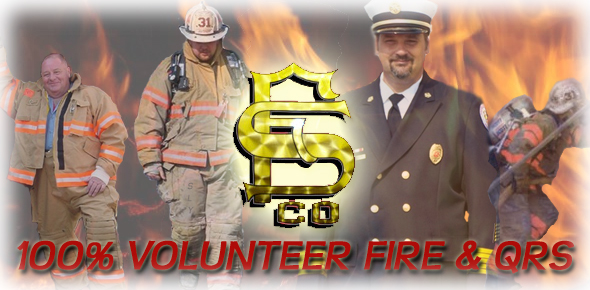 A piece of machinery was on fire and extinguished inside a business on Stewart Huston Drive in Sadsbury Township on Monday.

Building Fire on West Stewart Huston Drive, Sadsbury Township

Fire Chief Adam Grossman, December 15

On Monday December 15th, 2014 at 1257 hours the Sadsburyville, Westwood and Wagontown Fire Companies and the Keystone Valley Fire Department were dispatched to the 200 block of West Stewart Huston Drive in Sadsbury Township for a building fire.

Reports to 911 indicated smoke and fire coming from a building in the area. Firefighters responding to the station also gave the same report and a working ... (Full Story & Photos)


Auto Accident with Entrapment on West Kings Highway, West Caln Township

Fire Chief Adam Grossman, December 14

On December 14th, 2014 at 1228 hours the Sadsburyville Fire Company Fire and QRS were dispatched to assist the Wagontown Fire Company on an auto accident with entrapment in the 1100 block of West Kings Highway in West Caln Township. Engine 31-1 fully staffed led by Chief Grossman marked up at 1234 hours.

Westwood Ambulance 144 arrived at 1235 hours reporting heavy entrapment and placed a helicopter ... (Full Story & Photos)



Wagontown and Sadsburyville Firefighters worked together to extricate a trapped occupant from a vehicle involved in an accident on West Kings Highway.



I'M COMING TO SEE YOU !

Breaking News !

Captain Erik Brecht, December 12

We just received a call from the North Pole and spoke with Bernard, and it was the call of calls!.....The big guy SANTA CLAUS IS COMING TO TOWN! Saturday December 20th, beginning at 10:00AM, SANTA CLAUS will be making his annual trip around Sadsbury Township with his Sadsburyville Firefighter friends. When you hear the sirens...grab your coats and cameras & come on out and see Santa and Friends ... (Full Story & Photos)


Engine 31-1 Helps Bring In The Christmas Spirit

Fire Chief Adam Grossman, December 06

Today Engine 31-1 helped bring in the Christmas spirit at the annual Coatesville Christmas Parade in the City of Coatesville. Each year the Coatesville Christmas Parade organization hosts the parade which has been a long standing tradition in Coatesville marking the arrival of the holidays.

Members today despite the rain loaded up on Engine 31-1 to attend the parade. We would like to thank the parade ... (Full Story & Photos)



Lieutenant McCarthy presenting the Octorara Food Cupboard with over 300 pounds of donated food.

Annual Food Drive Was a Success

Captain Erik Brecht, December 03

On Saturday November 29th, Sadsburyville Firefighters Brad Rust, Lieutenant Chris McCarthy, and Captain Erik Brecht manned the intersection of Business Route 30 and Old Wilmington Road in front of Harry's the Neighborhood Place and collected "Boot Day" donations for our first annual food drive, to support our local food cupboard, and WMMR's Preston & Steve "Camp Out For Hunger" campaign. Throughout ... (Full Story & Photos)


Attached Garage on Fire in East Fallowfield Township

Fire Chief Adam Grossman, December 01

On December 1st, 2014, at 1041 hours the Sadsburyville Fire Company was dispatched to the 100 block of Radford Way in East Fallowfield Township to assist the Westwood Fire Company on a reported house fire.

Engine 31-1 made the response shortly after dispatch with a crew of 4. Westwood Battalion Chief Sly responded shortly after dispatch and was advised by the 911 center that the caller reported ... (Full Story & Photos)



Assistant Chief Reynolds donning an airpack and assists with fire suppression.



Captain Brecht begins to remove a door from the drivers side of the vehicle.

Auto Accident with Entrapment, Sadsbury Township

Fire Chief Adam Grossman, November 26

On Wednesday November 26th, 2014 at 1308 hours the Sadsburyville Fire Company, Keystone Rescue and Ambulance 08 and Medic 93 were dispatched to the 3000 block of Lincoln Highway across street Old Mill Road in Sadsbury Township for an auto accident with entrapment.

At 1310 hours Assistant Chief Reynolds arrived and assumed Lincoln Highway Command. Fire police were requested from Keystone, Westwood ... (Full Story & Photos)


Food Drive!

Captain Erik Brecht, November 26

This Saturday November 29th, 2014, our crew will be positioned at the intersection of Business 30 and Old Wilmington Road (Harrys The Neighborhood Place) from 8:00 AM until 12:00 PM, collecting canned goods and other non-perishables for those less fortunate.

Please come out and fill our boots and trucks with cash (to buy food) & cans, to provide much needed food to the Octorara Food Cupboard and ... (Full Story & Photos)