2014 Incidents
Fire
EMS
Jan
16
21
Feb
23
8
Mar
13
15
Apr
19
12
May
11
10
Jun
8
13
Jul
19
12
Aug
11
11
Sep
9
10
Oct
16
12
Nov
0
0
Dec
0
0
Total
145
124
Past Call Stats
Fire
EMS
2013
149
157
2012
150
133
2011
149
139
2010
122
163
2009
168
245
2008
176
344
2007
154
356
2006
154
381
2005
149
414
2004
133
326
2003
131
312
Web Counters
Website Visitors
Since
March 9, 2007

Visitors Today
Nov 25, 2014

Duplication of text, photos, or any other content on this website is prohibited without permission of sfc31.com. If you have questions, please contact us at Info@sfc31.com
National Weather Service Alerts for Chester County, PA
EXPERIENCE THE BROTHERHOOD- BECOME ONE OF US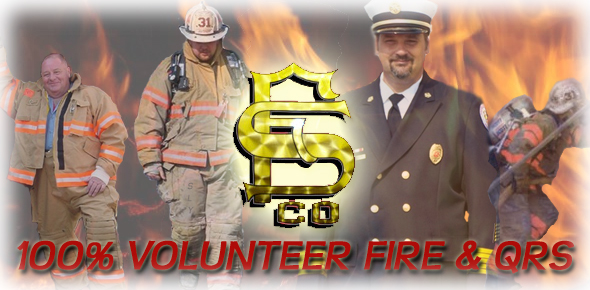 Dedication, Housing and Banquet 2014

Fire Chief Adam Grossman, November 09

On November 9th, 2014 members of the Sadsburyville Fire Company gathered to celebrate years of hard work, dedication and pride to our company and our community. The day included a housing and dedication of Engine 31-1 at the Sadsburyville Fire Company followed by a Banquet at the Wagontown Fire Company Volunteer's Hall.

Chief Grossman began the day's ceremony leading everyone in the pledge of allegiance ... (Full Story & Photos)



Sadsburyville Fire Company firefighters housing Engine 31-1.



Engine 31-1 responded to assist Wagontown Fire Company for this serious crash involving a dump truck and an SUV

Engine 31-1 Assists on Fatal Accident in West Caln Township

Firefighter/EMT John Sly, October 21

On Tuesday, October 21st, 2014 Engine 31-1 was dispatched at 0656 along with the Wagontown Fire Company, Westwood EMS, and Medic 93 to the intersection of Route 10 and Route 340 in West Caln Township for an auto accident reported with occupants trapped.

Calls to 911 continued to provide additional information, updating the location to the 3100 block of Compass Road with reports of a dump truck overturned ... (Full Story & Photos)


Afternoon Auto Accident

Firefighter/EMT John Sly, October 20

On Monday, October 20th, 2014 the Sadsburyville Fire Company and Keystone Valley Fire Department were dispatched at 1554 to the 2900 block of Lincoln Highway in Sadsbury Township for an automobile accident.

Assistant Chief Reynolds arrived on the scene just one minute after dispatch and reported a three vehicle accident, with one patient complaining of chest pains. This also summoned Medic 93 to ... (Full Story & Photos)



Fire and EMS units responded to this afternoon rush hour accident on Route 30 in Sadsburyville



Free fire safety literature was available for all in attendance

Fire Prevention Open House

Firefighter/EMT John Sly, October 18

On Saturday, October 18th, 2014 the Fire Company opened its doors for a Fire Prevention Open House!

Visitors had an opportunity to see the fire trucks up close, obtain safety literature, free helmets, and even had an opportunity to help firefighters use fire hoses!

A simulated fire was the grand finale of the evening which firefighters extinguished to demonstrate for the crowd.

We would like to ... (Full Story & Photos)


Rapid Intervention Crews Dispatched to Coatesville

Firefighter/EMT John Sly, October 18

On Saturday, October 18th, 2014 Engine 31-1 was dispatched at 1255 as the "Rapid Intervention Team" to assist the City of Coatesville Fire Department at a house fire in the 500 block of East Chestnut Street in Coatesville City.

Engine 31-1 responded with a full crew of 6 and arrived on the scene within 6 minutes.

By the time of the arrival of Engine 31-1, firefighters had already extinguished the ... (Full Story & Photos)



Engine 31-1 was dispatched to this house fire to assist the City of Coatesville Fire Department


First Annual Fire Prevention Open House

Captain Erik Brecht, October 16

Beginning at 4:00 P.M. this Saturday at the Sadsburyville Fire Company, the Active Crew will be hosting an open house for the 2014 Fire Prevention Season. There will be FREE FOOD (Compliments of Harry's, The Neighborhood Place), Childrens Gift Bags & Custom Fire Helmets, Raffles (Smoke Detectors & Fire Extinguishers), Demonstration & Learning Stations, and Tours. To conclude the evening, we will ... (Full Story & Photos)

Fire Prevention at Local Preschools

Fire Chief Adam Grossman, October 15

On October 15th, 2014, the Sadsburyville Fire Company conducted fire prevention educating at the two local preschools that are in Sadsbury Township, Little Jewels Preschool and Upper Octorara Preschool. Traditionally we have been presenting fire prevention education to these preschools for the past 3 years.

Hot topics of the day were stop, drop and roll, practicing an escape route and the theme ... (Full Story & Photos)

Fire Prevention Week 2014

Information Provided by NFPA.org, October 05

Home fires

-In 2011, U.S. fire departments responded to 370,000 home structure fires. These fires caused 13,910 civilian injuries, 2,520 civilian deaths, $6.9 billion in direct damage. -On average, seven people died in U.S. home fires per day from 2007 to 2011. -Cooking is the leading cause home fires and home fire injuries, followed heating equipment. -Smoking is a leading cause of civilian home ... (Full Story & Photos)